January 18, 2018
Presenting a New Way to Stay On Top of Your Game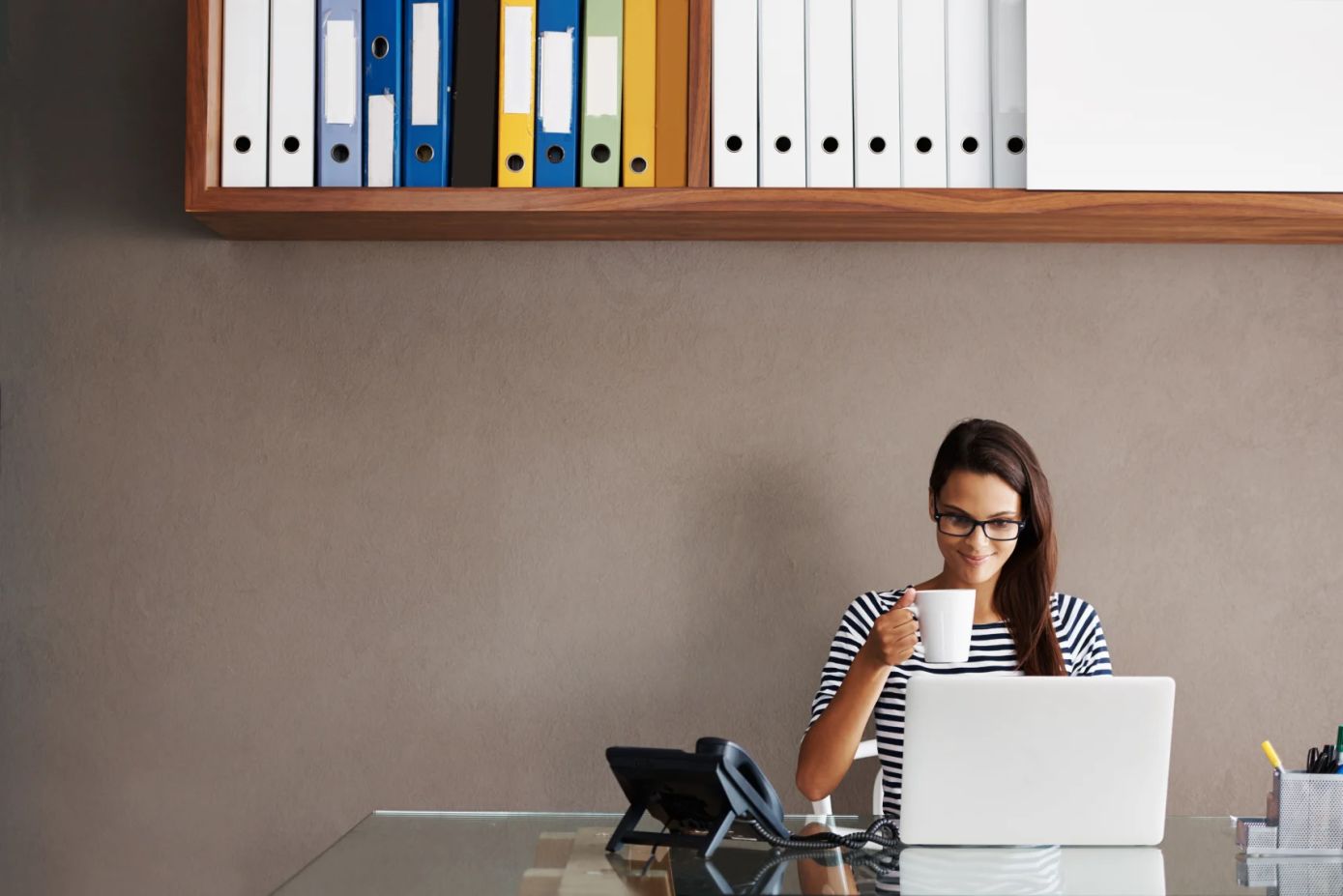 We understand that solopreneurs and small businesses of fewer than five people feel the pinch of time and resources more than any other business type. When time and resources are limited, technology can help a bit, but often adds a new challenge: keeping it all focused and centralized.
For one business contact, you may have a message saved in your phone's voicemail inbox, a text message saved elsewhere, and a few dozen sticky notes strewn about along with an Evernote file. You get the gist. There's valuable information about each of your contacts, but it's not pulled together in one centralized, actionable record.
When you're already strapped for time, keeping your information straight can seem next to impossible. If this strikes a chord, you'll be pleased to know that Peachee is the solution to your problems. We're helping solo business owners like you, who rely mostly on themselves, to stay organized, stay in touch, and stay on top of your game, without spending an arm and a leg.
Take action, right when it counts
Following up with your contacts, whether after a sales pitch, an interview, or a customer inquiry, is one of the most important things you can do for your business. A follow-up could mean the difference between landing that big sale or watching it slip through your fingers.
Peachee identifies all your customer communications, whether it's a phone call, a text message, or (coming soon) an email, and organizes them in one place. Once a text, phone call or email is sent or received, the app will prompt you to take immediate action or set a reminder to take action later. As a one-person show, Peachee makes being your own executive assistant easier than ever.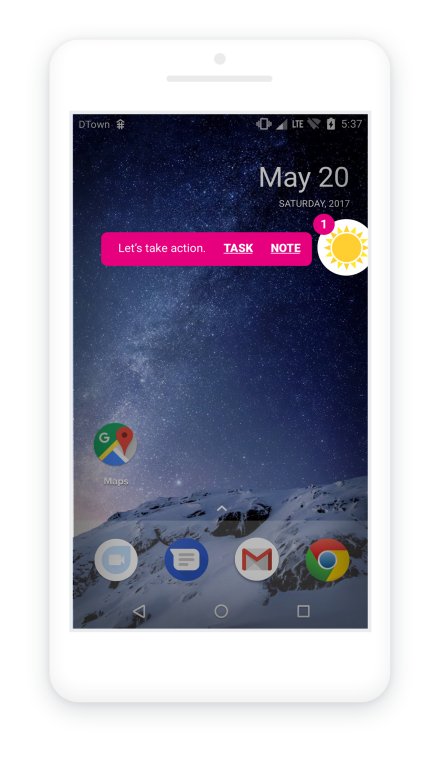 Bring clarity to your world
Running a lean business means doing more with less. Peachee seeks to fill a pivotal role on your team: a reliable assistant that knows just what you need to maintain client communication success.
All of your notes organized and in one place
Time is a commodity that you rarely have. Peachee helps you recapture your day (and gain critical context) by illustrating your full communication thread with your customer. This removes the risk of forgetting where you left off and helps you see what step to take next.
With Peachee's intuitive notes feature, you don't have to worry about losing that personal touch with your customers because you have a full history of all your interactions with them and can personalize your responses however you like.
You'll see your most important business contacts with the context you need to take meaningful action: any notes you've taken, audio files you've recorded, and voice and text messages you've traded — all right there in one clean client contact record.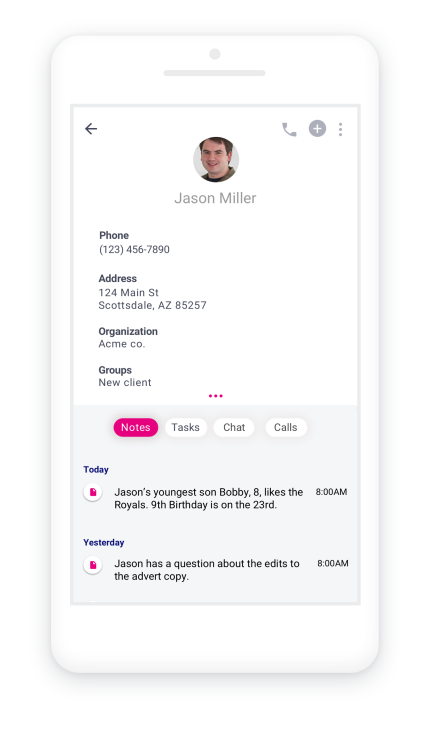 A crystal clear picture of your todays and tomorrows
Once you've captured the context about your conversation in the notes, it's time to take action by creating tasks. Peachee provides the flexibility you need, allowing you to set your own deadlines, complete with built-in reminders.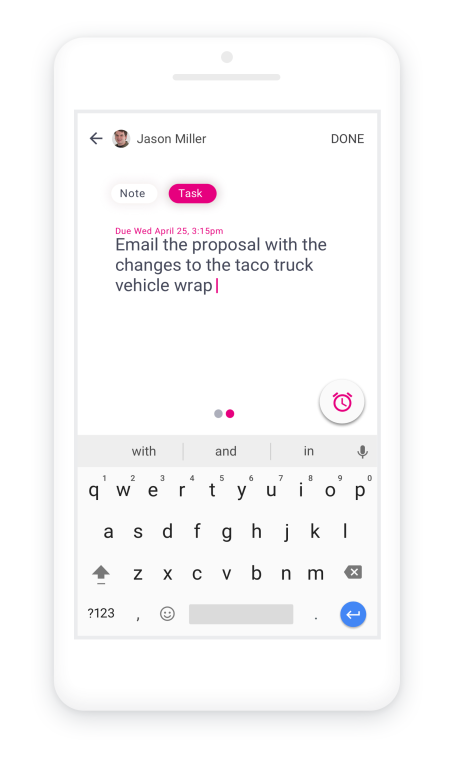 But even better, your tasks are tied to dates and the associated client, all listed in a clean timeline view. Even better, you'll be able to see what you accomplished each day which can be very handy if you're required to create client invoices for services rendered.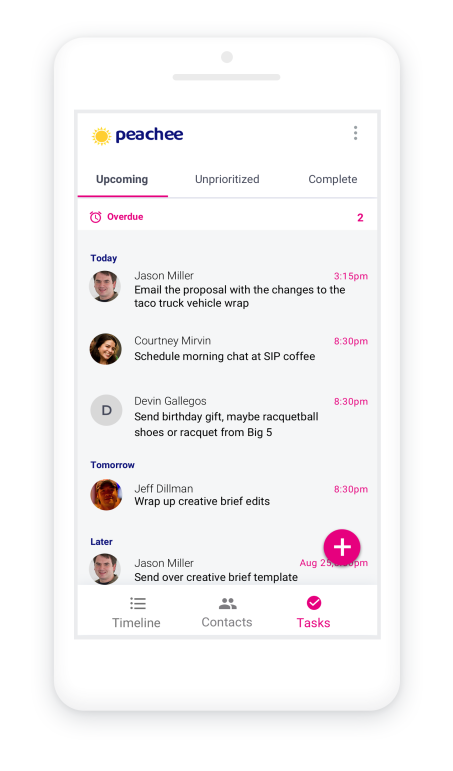 Say hello to your 24/7 on-call assistant
Solopreneurs wear a lot of hats. Actually, all of them: sales, operations, marketing, human resources, accounting—you name it. With so much to juggle, it's easy to become disorganized. And when you're disorganized, you're more likely to forget about important dates and deadlines, like when an invoice is due or a bill needs to be paid. Seriously, if you've done all the work, that's one follow-up opportunity you really don't want to miss.
With Peachee, you can kiss those slip-ups goodbye. The app centralizes all your information, allowing it to recognize and alert you about upcoming follow ups so nothing falls through the cracks.
Ready to give Peachee a try?